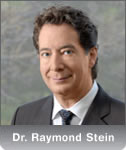 Welcome to the blog of Dr. Raymond Stein, a leading Toronto vision correction surgeon who has extensive experience helping patients from throughout North America. Dr. Stein is a board certified ophthalmologist who has been the recipient of several prestigious awards from such noted ophthalmology institutions such as the American Academy of Ophthalmology and the International Intraocular Implant Club. Dr. Raymond Stein is also proud of the fact he has served as the President of the Canadian Society of Cataract and Refractive Surgery.
Dr. Raymond Stein has performed more than 80,000 successful eye surgeries, a level of experience that allows him to treat a wide array of vision problems, including refractive error, cataracts and keratoconus.
As Medical Director of the noted Bochner Eye Institute in Toronto, Dr. Raymond Stein is proud to work with a team of dedicated eye care professionals. If you have any questions and wish to schedule a consultation with Dr. Raymond Stein, please call 416-960-2020.